Online Master's in Cyber Risk Management (M.S.)
Shape the Future of Business Strategy as a Cyber Leader
Advance your career and learn to shape corporate governance, business strategy, and organizational goals with an awareness of technology opportunities and cyber risk. Prepare to enhance your organization's cyber awareness, risk management strategy, and business outcomes with the University of New Haven's 100 percent online Master of Science in Cyber Risk Management.
Learn More Today
Complete the form to learn more about this program.
Duration

1.5 years

Cost per Credit

$795

Credit Hours

30
Program Benefits
Advance your career in a thriving industry
Prepare to earn industry-recognized certifications like CISM and CISSP
Develop business-oriented cyber risk management knowledge
100% online delivery
Protect Data and Drive Organizational Success
The online master's in cyber risk management from the University of New Haven explores the concepts and processes required to manage technology, manage cyber risk, secure networks, and advance organizational goals.
Through the principles of leadership, risk management, crisis response, and communication, this program gives you the cybersecurity knowledge and leadership expertise you need to succeed in today's technology-driven business world.
Finish your degree in just 1.5 years as you develop knowledge of crisis management, organizational development, risk management, and cybersecurity.
Who Is This Degree For?
This program is designed to develop leadership and management expertise for organizational, business, military, and government leaders as well as recent college graduates. New Haven's cyber leadership degree prepares you to effectively manage cyber risk while leading business operations and IT service delivery in pursuit of your organization's strategic vision and goals.
Graduates of this program are prepared to move beyond daily administrative work to manage cyber risk, leverage the business opportunities presented by a rapidly evolving cyber domain, and exercise new opportunities in information technology leadership and value creation.
Accreditation
The Pompea College of Business is accredited by the Association to Advance Collegiate Schools of Business (AACSB). This distinction places us among the top five percent of business programs worldwide.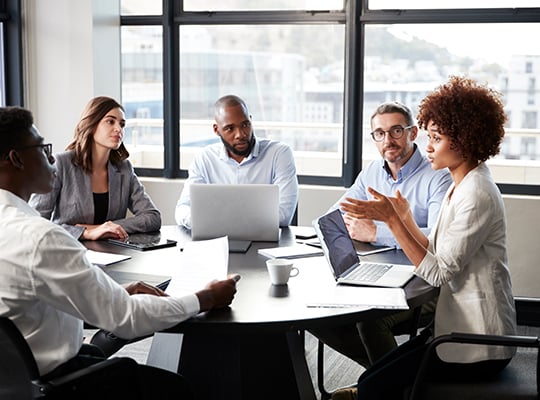 Curriculum
The University of New Haven's online master's in cyber risk management emphasizes strategic leadership and practical management practices that prepare you for a wide range of opportunities in the cyber leadership job sector. Our curriculum aligns with the National Institute of Standards and Technology's NICE Cybersecurity Workforce Framework.
Students study leadership theory and application, executive communication, strategy and governance, information security, incident detection, crisis response, and cyber-oriented business operations. You will build the knowledge and skills you need to prepare for industry certifications like Certified Information Systems Security Professional (CISSP) and Certified Information Security Manager (CISM).
Curriculum Details
Program Outcomes
When you complete the online M.S. in Cyber Risk Management program, you will be prepared to:
Establish a vision that integrates business operations, technology, and risk management while exercising decision authority over people and resources.
Support mature governance and provide strategic and operational direction for your organization's cybersecurity, information assurance, and cyber-related people, processes, and technology.
Establish, mature, and maintain your organization's cyber strategy, system security plans (SSP), business continuity, and service delivery plans to meet business goals, achieve critical cybersecurity initiatives, protect critical IT infrastructure and data, manage risk, and ensure regulatory compliance.
Career Outlook
The University of New Haven's online M.S. in Cyber Risk Management qualifies you for leadership roles in information technology, cybersecurity, and more. There is a global shortage of qualified cybersecurity employees,1 so the market for master's-level graduates with leadership skills and a deep understanding of cybersecurity and risk management provides extensive opportunities.
With employment in computer and information technology occupations expected to grow 15 percent through 2031,2 professionals who can lead technical programs and organizations while informing business strategy are in high demand.
Explore Job Options
Admission Requirements
To apply for the online master's in cyber risk management from the University of New Haven, you'll need:
A completed online application
Official transcripts from all previously attended institutions
A bachelor's degree from a regionally accredited U.S. institution or recognized institution from another country
An up-to-date résumé
A Statement of Purpose
Two letters of recommendation from your professors or employers
For additional admission information, visit the link below.
Admission Requirements
Tuition Details
We are proud to offer competitive tuition and high-quality learning opportunities for our students. The online M.S. in Cyber Risk Management program is $795 per credit hour and includes 30 credits. To find out more about tuition and fees, visit the link below.
Get Tuition Details
Learn From Industry Experts
Our dedicated faculty are active practitioners who have strong skills and real-world experience in cybersecurity and business leadership. They provide personal attention and share relevant field expertise to help you achieve your academic and professional goals. To learn more about the program from the program director, read his interview here.
Meet Our Faculty
The online degrees available from the University of New Haven are designed for working professionals and busy adults. As a student, you'll benefit from flexible program delivery and the same academic rigor as our on-campus programs.
Learn More
A graduate degree is an investment in your future. We want to make sure you have the information and resources you need to fund your studies. Explore transfer credit options, military benefits, federal aid, and more.
Tuition and Aid
Frequently Asked Questions
Get answers to commonly asked questions about online learning at the University of New Haven. If you need additional information that's not covered here, our admissions team can help. Contact us or call 855.474.8465.
There are currently no additional fees associated with the total tuition fee. Please note that program fees are subject to change each academic year.
While work experience is not required, prospective students submit a résumé as part of their application.
Students with a bachelor's degree from a regionally accredited institution or recognized institution from another country are eligible for the online M.S. in Cyber Risk Management program. There is no minimum GPA requirement but non-business majors with GPAs below 2.5 require further review. Admission requirements include completing the online application and submitting all documentation by the application deadline. You can view full requirements for this program here.
This program is delivered in a 100 percent online format ideal for working professionals.
The University of New Haven does not currently offer a virtual open house for this program.
Visit our FAQ page