Online Master's in Accounting (M.S.)
Specialize Your Accounting Skills and Prepare for the CPA Exam
Earn the degree you need to become a leader in the accounting field with the University of New Haven's 100 percent online Master of Science in Accounting degree.
Learn More Today
Complete the form to learn more about this program.
Duration

2 years

Cost per Credit

$823

Credit Hours

30-36
Program Benefits
Career-focused Accounting Analytics (STEM) concentration
Learn from expert faculty
Accreditation by AACSB
100% online
Access to significant discounts for CPA exam preparation materials
Prepare for the CPA Exam with Wiley CPAexcel®
The University of New Haven's online accounting students are eligible to receive a discount on Wiley CPAexcel®, a CPA exam prep tool that's endorsed by the Big Four accounting firms. This tool is designed to help you prepare for the CPA exam through visual learning, digestible lessons, and continuous access to test prep material. Learn more about the benefits of this online CPA exam prep tool here.
Gain Advanced Knowledge for Leadership Careers in Accounting
The University of New Haven's online master's in accounting degree prepares you to thrive in the growing accounting field. As a student, you will develop valuable critical thinking and strategic decision-making skills for leadership roles in your organization and beyond.
With a career-focused concentration option in Accounting Analytics (STEM), this program is designed to provide cutting-edge expertise. You can finish your degree in as little as two years. Graduates of the online M.S. in Accounting program meet requirements to sit for the CPA exam in most states.*
The University of New Haven's Pompea College of Business is accredited by the Association to Advance Collegiate Schools of Business (AACSB), a distinction that places us among the top five percent of business programs across the globe.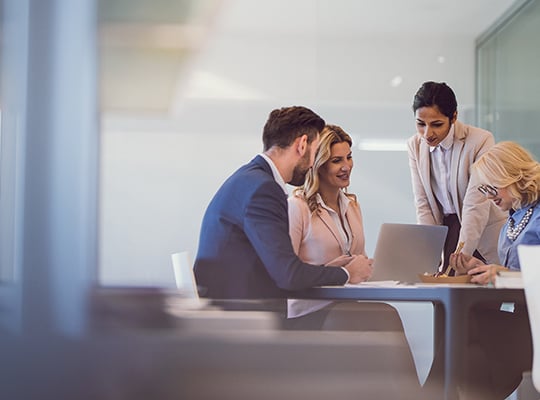 Curriculum
The University of New Haven's Master's in Accounting curriculum emphasizes practical skill development for lifelong professional success. It combines generalist accounting knowledge with specialized concentration in Accounting Analytics (STEM). You will study topics like financial accounting, managerial accounting, auditing, compliance, and more.
Curriculum Details
Program Outcomes
When you complete the online M.S. in Accounting program, you will:
*Have the 150 hours of education necessary for Certified Public Accountant (CPA) licensure.
Specialize in one of several fields connected with accounting careers.
Apply new skill sets for professional advancement.
Concentration Option
M.S. in Accounting: Accounting Analytics Concentration
This STEM-designated concentration features cutting-edge topics like database management, data visualization, and machine learning to enhance your knowledge in an emerging skill area.
Career Outlook
The University of New Haven's online M.S. in Accounting prepares you for career advancement in areas like auditing, taxation, compliance, and data analytics. With employment for accountants and auditors expected to grow 6 percent through 2031, candidates with master's-level education have an advantage in the job market.1
Explore Job Options
Admission Requirements
To apply for the online M.S. in Accounting from the University of New Haven, you'll need:
A completed online application
Official transcripts from all previously attended institutions
A bachelor's degree from a regionally accredited U.S. institution or recognized institution from another country
A Statement of Purpose
Two letters of recommendation from your professors or employers
GMAT scores
For additional admission information, visit the link below.
Admission Requirements
Tuition Details
We are proud to offer competitive tuition and high-quality learning opportunities for our students. The online master's in accounting program is $823 per credit hour and includes 30-36 credits. To find out more about tuition and fees, visit the link below.
Get Tuition Details
Learn From Accounting Experts
Our dedicated faculty are industry experts who have had significant careers in public accounting and the corporate world. They bring real-world experience to their teaching, provide personal attention, and share valuable expertise to prepare you for success.
Meet Our Faculty
The online degrees available from the University of New Haven are designed for working professionals and busy adults. As a student, you'll benefit from flexible program delivery and the same academic rigor as our on-campus programs.
Learn More
A graduate degree is an investment in your future. We want to make sure you have the information and resources you need to fund your studies. Explore transfer credit options, military benefits, federal aid, and more.
Tuition and Aid
Frequently Asked Questions
Get answers to commonly asked questions about online learning at the University of New Haven. If you need additional information that's not covered here, our admissions team can help. Contact us or call 855.474.8465.
There is a $25 online course fee per credit. Please note that program fees are subject to change each academic year.
The M.S. in Accounting program does not currently offer a virtual open house.
Because this program is designed for adult learners and working professionals, it can be completed part-time on a flexible schedule.
The University of New Haven's online Master's in Accounting includes concentration option in Accounting Analytics (STEM).
There is no residency component for this program.
There are 12-13 courses in this program.
Visit our FAQ page
Sources:
Bureau of Labor Statistics, U.S. Department of Labor, Occupational Outlook Handbook, Accountants and Auditors. Retrieved from https://www.bls.gov/ooh/business-and-financial/accountants-and-auditors.htm.
*Click here to learn more about licensure information for the online MS in Accounting program.
*Please note that students cannot earn CPA certification simply by earning a college degree. Some state licensing board regulations include narrow educational requirements such as specific semester hours in accounting and business courses, and there are additional considerations such as experience, age and residency that must be considered.