Online Master's in Healthcare Administration (MHA)
Learn to Lead Modern Healthcare Organizations
Advance your career with the University of New Haven's online Master of Healthcare Administration. Our MHA program is accredited by the Commission on the Accreditation of Healthcare Management Education (CAHME) and delivers academic excellence and a cutting-edge curriculum to help you thrive in today's complex and changing healthcare system.
Learn More Today
Complete the form to learn more about this program.
Duration

2 years

Cost per Credit

$800

Credit Hours

36
Program Benefits
CAHME accredited

Relevant and timely course content

No GMAT or GRE required
100% online instruction
Develop Real-World Skills to Meet Industry Challenges
The University of New Haven's online healthcare administration degree is grounded in practical application for the healthcare sector, developing your skills in statistical analysis, business planning, strategic thinking, problem solving, and more. Finish your program in just two years and meet your professional goals.
This program is designed to deliver the 11 core competencies of health care administration on the Peregrine learning outcomes assessment. Students take the exam at the beginning and end of the program to chart their progress and ensure career-readiness. You will also develop an individualized course of study for the job you want.

With our online Master of Health Administration program you can be confident you're earning a degree that meets the highest standards for quality and rigor. Graduates are prepared for long and successful careers as leaders in healthcare. Our program is one of just four in New England, that is accredited by the Commission on the Accreditation of Healthcare Management Education (CAHME).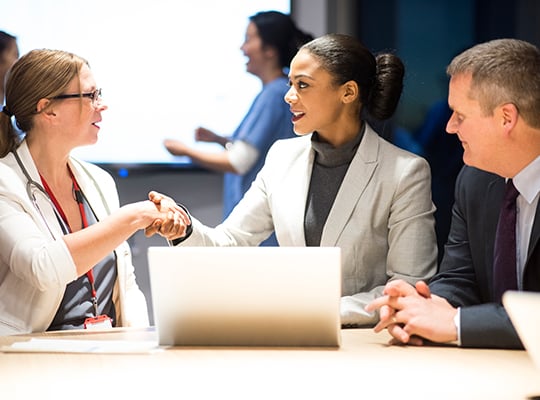 Curriculum
The online master's in healthcare administration degree emphasizes advanced skill development and management expertise. As a student, you will study essential topics like information systems, financial management, healthcare leadership, and more. The healthcare administration curriculum also includes experiential learning via an internship.
Curriculum Details
Program Outcomes
When you complete your online healthcare administration degree, you will be able to demonstrate:
Improved competency across the 11 core competencies of healthcare administration on the Peregrine Healthcare Administration exam with a higher outbound exam score versus inbound exam score.
Competence in understanding health systems and organizations.
Competence in understanding organizational climate and culture.
Competence in healthcare information technology.
Competence in healthcare financial management.
Competence in health law and policy.
Competence in personal and professional accountability.
Competence in data analysis.
Competence in communication and relationship management.
Competence in critical thinking and decision making.
Competence in leadership skills and behavior.
Career Outlook
The University of New Haven's online Master of Healthcare Administration qualifies you for leadership careers at the intersection of business and healthcare.
Annually, our MHA has an average 94.5% job placement rate within three months post-graduation of working full-time in the healthcare sector.
Explore Career Outlook
Admission Requirements
To apply for the online Master of Healthcare Administration from the University of New Haven, you'll need:
A completed online application
Official transcripts from all previously attended institutions
A bachelor's degree from a regionally accredited U.S. institution or recognized institution from another country
3.0 GPA on a 4.0 scale
An up-to-date résumé and curriculum vitae
A Statement of Purpose
Two letters of recommendation from your professors or employers
For additional admission information, visit the link below.
Admission Requirements
Tuition Details
We are proud to offer competitive tuition and high-quality learning opportunities for our students. The online healthcare administration degree program is $800 per credit hour and includes 36 credits. To find out more about tuition and fees, visit the link below.
Get Tuition Details
Learn From Healthcare Experts
Every faculty member in the online Master of Healthcare Administration program brings at least 10 years of academic and industry experience to the classroom. They provide personal attention and share valuable expertise, preparing you for the challenges of healthcare leadership.
Meet Our Faculty
The online degrees available from the University of New Haven are designed for working professionals and busy adults. As a student, you'll benefit from flexible program delivery and the same academic rigor as our on-campus programs.
Learn More
A graduate degree is an investment in your future. We want to make sure you have the information and resources you need to fund your studies. Explore transfer credit options, military benefits, federal aid, and more.
Tuition and Aid
Frequently Asked Questions
Get answers to commonly asked questions about online learning at the University of New Haven. If you need additional information that's not covered here, our admissions team can help. Contact us or call 855.474.8465.
While scholarships are not available for online students, the University of New Haven does accept federal financial aid.
Students can transfer up to six credits into the program.
You can apply anytime. Our term start dates are in January, May, and August.
Students must complete at least 30 credits of coursework with the University of New Haven to graduate.
There are currently no additional fees associated with the total tuition fee. Please note that program fees are subject to change each academic year.
Visit our FAQ page