Online Bachelor of Science in Business Management
Take the Next Step in Your Business Management Career

Degree Completion Program
No matter your background, you can increase your marketability and gain the most up-to-date leadership skills with the University of New Haven's online bachelor's degree in business management. Delivered by the AACSB-accredited Pompea College of Business, this online degree completion program takes a practical, applied approach to key technical and soft skills across the management spectrum.
You can complete your degree part-time, with the flexibility to continue your career while simultaneously earning your degree.
You'll learn what it takes to manage staff, develop workable action plans, accomplish major goals, and thrive in global business environments.
Learn More Today
Complete the form to learn more about this program.
Duration

2–4 years

Cost per Credit

$492

Credit Hours

121
Program Benefits
Increase your salary potential
Work closely with expert faculty members
Gain the flexibility of earning your degree part-time
Access our award-winning career development resources
Launch a Successful Management Career
An online bachelor's degree in business management from the University of New Haven can help you obtain an entry-level management role or move up in your current position. Your multicultural leadership skills will apply to virtually any industry and organization.
Our exceptional business management faculty includes highly credentialed academics and full-time practitioners who bring real-world experience to the online classroom. You'll also benefit from multiple networking opportunities and access to the University's numerous career development services.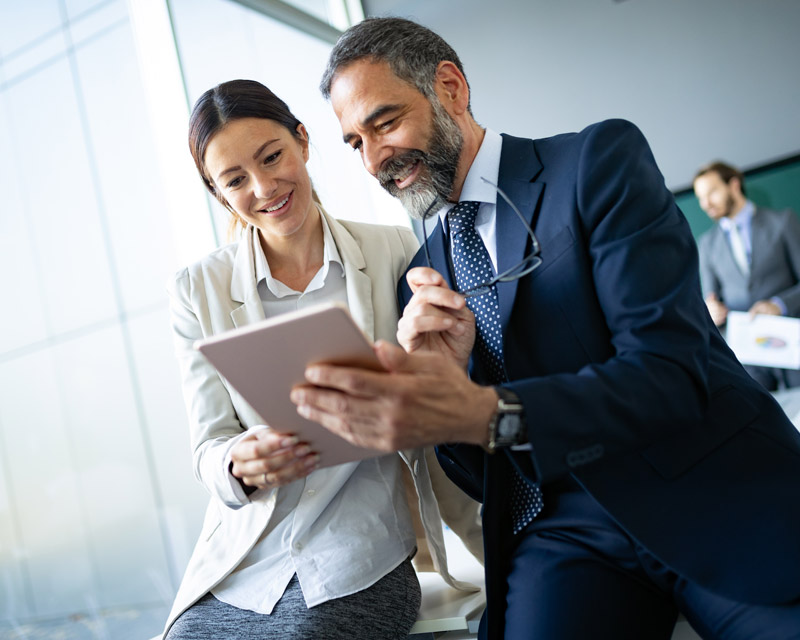 Curriculum
The University of New Haven's online bachelor's degree in business management includes 30 credits of business courses, 24 credits of major courses, and 26 credits of free electives. You can select the elective courses that complement your professional interests and goals.
Faculty members who teach in our industry-facing business management degree help you develop your leadership skills for real-world environments.
Curriculum Details
Program Outcomes
When you complete the online B.S. in Business Management degree, you will be able to:
Demonstrate knowledge of fundamental business concepts in functional areas.
Analyze data using technology and information systems and appropriate quantitative and analytical techniques.
Integrate knowledge from the functional business areas and formulate solutions that consider both an organization's internal and external environments.
Analyze how businesses function in the global marketplace.
Understand global differences between cultures.
Understand social responsibility and its effects on stakeholders.
Apply a variety of ethical principles within the business environment.
Create well-written business documents.
Demonstrate effective team skills.
Recognize and explain how different types of diversity add value in a business environment.
Career Outlook
The business management degree program at the University of New Haven focuses on your success. Online classes feature a low student-to-faculty ratio of about 10:1, so faculty members can help you achieve your career goals. You'll graduate with the skills to effectively manage today's diverse workforces.
The Bureau of Labor Statistics reports that management occupations made a median annual wage of $107,360 in May 2022, the highest of all the major occupational groups.1
Explore Career Outlook
Admission Requirements
To apply for the online business management bachelor's degree from the University of New Haven, you'll need:
A completed online application.
Students must have earned 30 credits to apply.
Official transcripts from all previously attended institutions.
2 years work experience, or an Associates degree.
A 250–500 word written statement/essay about why you wish to pursue your online BS in Business Management at the University of New Haven.
See All Requirements
Tuition Details
We are proud to offer competitive tuition and high-quality learning opportunities for our students. The online bachelor's degree in business management program is $492 per credit hour and includes 121 credits. To find out more about tuition and fees, visit the link below.
Get Tuition Details
Learn From Experienced Faculty and Practitioners
Our faculty is made up of experienced business management educators and professionals. In classes with small student-to-teacher ratios, you'll have their undivided attention and expertise to prepare you for success.
The online degrees available from the University of New Haven are designed for working professionals and busy adults. As a student, you'll benefit from flexible program delivery and the same academic rigor as our on-campus programs.
Learn More
A graduate degree is an investment in your future. We want to make sure you have the information and resources you need to fund your studies. Explore transfer credit options, military benefits, federal aid, and more.
Tuition and Aid
Frequently Asked Questions
Get answers to commonly asked questions about online learning at the University of New Haven. If you need additional information that's not covered here, our admissions team can help. Contact us or call 855.474.8465.
There are currently no additional fees associated with the total tuition. Please note that program fees are subject to change each academic year. The estimated tuition cost does not include textbooks, student loans, or other expenses.
Because this program is designed for adult learners and working professionals, it can be completed part-time on a flexible schedule in two to four years.
This program can be completed in two to four years, depending on transfer credits and how many courses you take at a time.
The University of New Haven's Pompea College of Business is accredited by the Association to Advance Collegiate Schools of Business (AACSB), a distinction that places us among the top five percent of business programs across the globe.
The University has been accredited by the New England Commission of Higher Education since 1948 and is chartered by the General Assembly of the State of Connecticut.
You can apply anytime. Our term start dates are in January and August. Your enrollment counselor can help you decide which start date is right for you and your academic goals.
Your cumulative college GPA on a 4.0 scale should be approximately 2.8, although we regularly accept students with lower GPAs depending on individual circumstances.
Visit our FAQ page
Source:
Bureau of Labor Statistics, U.S. Department Bureau of Labor Statistics, U.S. Department of Labor, Occupational Outlook Handbook, Management Occupations. Retrieved from https://www.bls.gov/ooh/management/.