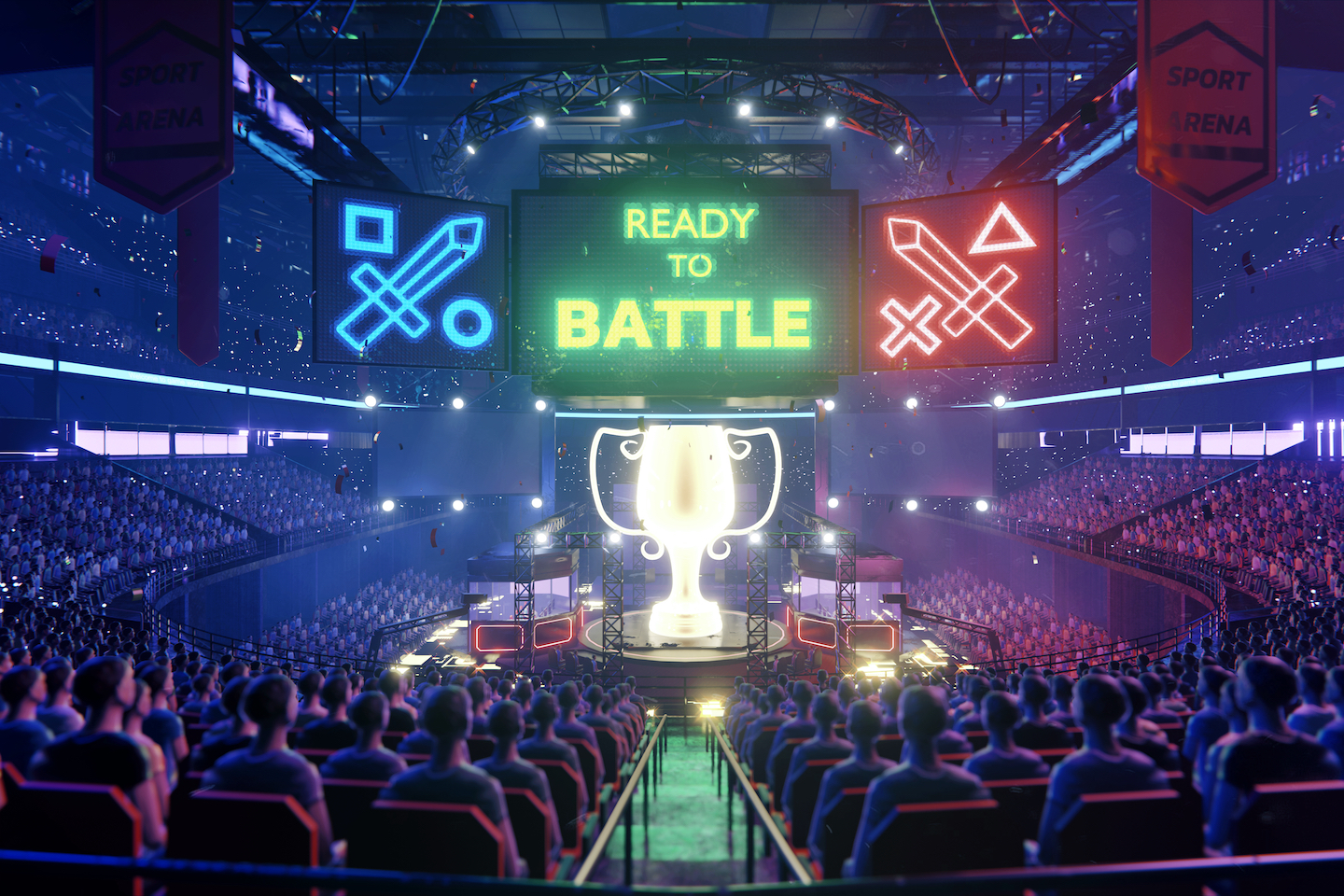 The world of competitive, organized gaming may be relatively new, but take a simple glance at the history of esports and you'll see how this industry has experienced incredible growth.
It's not slowing down, either. Events that span millions of dollars and viewers are the norm. One of those tournaments, Dota 2's The International 2019, had a crowdfunded prize pool of $34.3 million, according to The Verge. Less than a year prior, CNBC reported that the "League of Legends" World Championship finals in South Korea hit nearly 100 million unique viewers — the previous Super Bowl had just more than 98 million viewers.
And there are even more staggering numbers that showcase esports' rise.
A Look at Esports Revenue and Viewership Growth
Global esports revenue will reach $1.08 billion by the end of 2021, according to the 2021 Global Esports and Live Streaming Market Report from analytics firm Newzoo. That's up 14.5% from $947.1 million in 2020. The firm predicts that global esports revenue growth will exceed $1.6 billion by 2024 — representing a compound annual growth rate (CAGR) of 11.1%.
Note that in another report released around the same time from Juniper Research, the global esports and games streaming industry will be worth $3.5 billion by 2025, which is up significantly from $2.1 billion in 2021.
It can be helpful to put these numbers in perspective to those in mainstream sports. There isn't a good direct comparison available, but according to sports company Sportico, the average franchise valuation is $2.2 billion for the MLB, $2.4 billion for the NBA, and more than $3 billion for the NFL. Many of those franchises have a head start of several decades (and some more than a century) of history than the two- or three-decade-long history of organized esports.
The other side of esports growth is viewership. Here, in terms of the global esports audience, Newzoo anticipated an 8.7% year-on-year increase to 474 million globally in 2021. It'll pass half a billion people in 2022 and then hit 577.2 million in 2024, which is good for a CAGR of 7.7%. The firm also predicted the games-live streaming audience growth, which should increase 10.0% and reach 728.8 million in 2021. By 2024, it'll reach 920.3 million (CAGR of 9.2%).
According to Juniper Research, there will be 800 million esports and games viewers by the end of 2021. And by 2025, the number will increase to more than 1 billion.
Making comparisons to mainstream sports is difficult with viewership like it was with revenue. However, there are some sources that estimate only five sports to have a global fan base of at least 1 billion people: soccer/association football, cricket, basketball, field hockey, and tennis. The next most popular sports, like volleyball, table tennis, baseball, and American football are all under or soon-to-be-under where esports viewership is expected to be.
How Esports Innovates Within Its Own Industry
Numbers like revenue and viewership help tell the story of esports' incredible industry growth. Yet, it's tough to get a good feel for how dramatic this business has ascended without a few interesting and rather unexpected examples of it in action.
Professional Sports Leagues
One illustration of innovation in esports is how professional sports leagues have gotten involved. For instance, the NBA 2K League was founded in 2017 between the game's manufacturer and the NBA. Now, there are 23 teams, and all but one (an NBA 2K League team based in China) is associated with an NBA team. Players receive salaries and teams compete for $1 million over the course of the season.
Another major sport, NASCAR, began its series of iRacing sim racing events during COVID-19. Originally intended as a one-time event, it led to a weekly series of events and then was brought back in 2021 after setting "the high watermark in viewership for televised esports programming," according to NASCAR.
Innovation within esports has also taken place in another respect that would have been tough to anticipate beforehand.
Two Unexpected Additions to Esports
The gaming world was shocked when in August 2020, esports organization Panda Global announced the world's first Fall Guys professional team. If you're not familiar with Fall Guys, it's a massively multiplayer battle royal game known for its chaotic gameplay. The game has a reputation of involving a decent amount of luck, and that typically makes a game unsuitable for esports.
Nevertheless, the site Esports Earnings reports that the game has awarded a total of more than $250,000 in prize money as of May 2021.
A second game that has taken the esports world by storm occupies not just one, but two of the top 75 games in esports that have exceeded $1,000,000 in total prize money. That game is chess.
Both chess.com and chess24 have awarded millions in prize money from online-only and esports-like competitions. It's another example of a game, like Fall Guys, that most people wouldn't associate with esports. However, and for different reasons than Fall Guys, chess has excelled in an esports environment.
Thanks to competitions that span the best chess players in the world and even bring together popular personalities in traditional esports — not to mention the effect of both Netflix's wildly popular series, "The Queen's Gambit," and a worldwide pandemic — chess has exploded online. For instance, Chess.com had 81 million total viewers in October 2020, and then grew to 116.5 million the next month and then 162.5 million the subsequent month, according to Dexerto. Plus, major esports organizations like Envy Gaming and TSM have signed top-level chess players (like American grandmaster Hikaru Nakamura) and content creators (like Alexandra and Andrea Botez).
If the likes of Fall Guys and chess can enter the world of competitive gaming and attract the attention of top esports organizations, it remains to be seen what's possible in this industry. Esports growth may be kicking into yet another gear. You can take part in this thriving industry with the University of New Haven's online M.S. in Esports Business — the first esports business master's program in North America, and the first online program of its kind worldwide.
Through academic partnerships with top esports companies like HyperX and Twitch, as well as with non-endemic companies like Turner Sports, you'll gain interdisciplinary skills for the dynamic esports sector. The University of New Haven's Pompea College of Business is accredited by the Association to Advance Collegiate Schools of Business (AACSB), a distinction that places us among the top five percent of business programs across the globe.
Recommended Articles
View All