Online Master's in Esports Business (M.S.)
Launch Your Career in the Emerging Esports Industry
As the first esports business master's program in North America, and the first online program of its kind worldwide, the University of New Haven's M.S. in Esports Business delivers the academic quality and industry experience you need for a wide range of esports careers.
The University of New Haven's Pompea College of Business is accredited by the Association to Advance Collegiate Schools of Business (AACSB), a distinction that places us among the top five percent of business programs across the globe.
Learn More Today
Complete the form to learn more about this program.
Duration

12 months

Cost per Credit

$823

Credit Hours

33
Program Benefits
Join a rapidly growing industry
Accreditation by AACSB
Learn from expert faculty
Attend class when and where it's convenient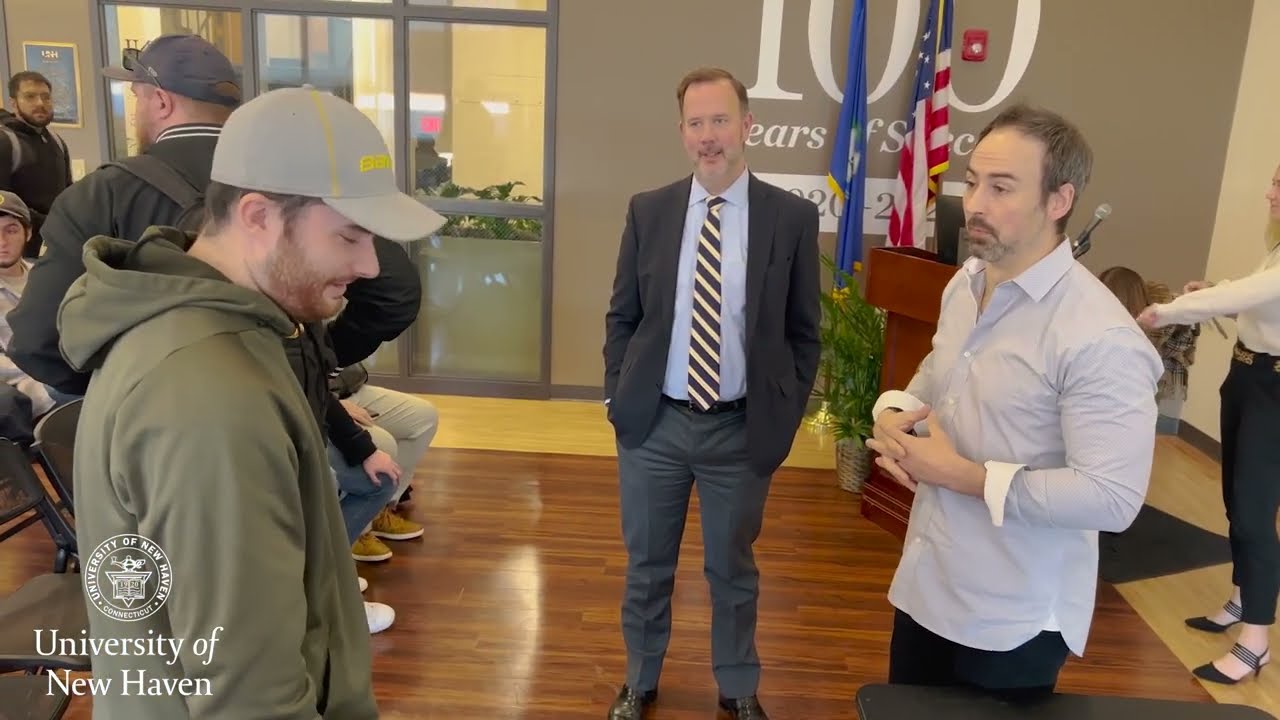 so my name is Jonathan Stringfield I'm practitioner and residence and director of the master of science Esports program at the University of New Haven and I believe in the future of Esports education because it's a developing industry it's going to be a very important one in terms of how we continue to consume media differentially in future years but what we're finding is that folks that are really interested in the industry don't quite have all the business skills necessarily to really develop it in a way where they can be sustainable and bring new Revenue in and what have you gaming is a great place to kind of level set because again not only has it continued to be on that Forefront but is also increasingly embedded within cultural norms and the ways in which that we are starting to think about and utilize that technology so through that lens understanding things like socialization media consumption or otherwise gaming provides one of the better Windows through which we can start to learn about the direction for these these potential clubs long and short we're looking to do is equip students who are very passionate about the industry with the requisite skills to indeed build something that'll be useful and sustainable for the future so I'm really excited that we can work directly with students in this way and really place them in awesome jobs in an industry that they're passionate with that they can then Propel forward
Choose Your Path in Esports at UNH
In this video, you will hear from the University of New Haven's faculty Dr. Jonathan Stringfield on why our 100% online master's in esports business is an important credential to acquire in developing the gaming industry.
Gain Real-World Skills for the Business of Esports
The video game industry is among the highest-earning in the world with organized competitive gaming, or esports, emerging as a fan favorite worldwide. Get qualified for careers in this rapidly growing field with the University of New Haven's online esports degree.
Our program is designed to give you industry-specific competencies in strategic planning, project management, market research, entrepreneurship, and more. It combines academic rigor with industry engagement, giving you opportunities to work one-on-one with esports leaders and build your professional network.
Through partnerships with top esports companies like HyperX and Twitch, you'll gain interdisciplinary skills for the dynamic esports sector. Study at your own pace to finish your degree in just one year and enter the industry ready to make an impact and advance your career.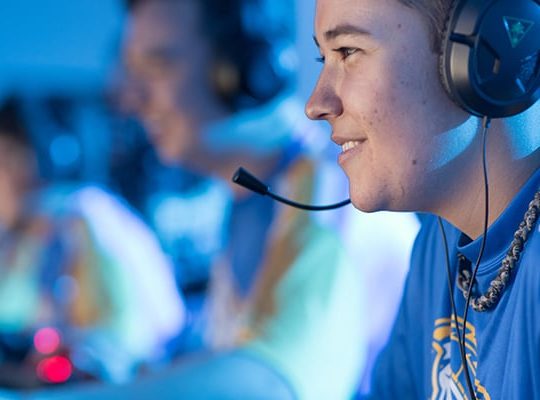 Curriculum
The online master's degree in esports business provides students with the theoretical and practical education required to succeed in the expanding and complex field of esports. You will gain a deep understanding of current and future issues in the industry and learn to conceptualize, develop, and execute major esports business projects.
Curriculum Details
Program Outcomes
When you complete the online M.S. in Esports Business program, you will be able to:
Navigate the complex web of industries that comprise esports.
Evaluate esports business opportunities using defined criteria and informed judgment.
Lead esports projects within esports organizations and businesses adjacent to the esports industry or create new businesses in the esports industry.
Career Outlook
The University of New Haven's online esports degree qualifies you for a variety of careers in esports and related industries. With the global market for esports expected to reach $6.82 billion by 2027,1 professionals who can lead esports projects and identify growth opportunities in the live streaming economy are in high demand.
Explore Job Options
Admission Requirements
To apply for the online esports degree from the University of New Haven, you'll need:
Completed online application
Official transcripts from all previously attended institutions
Bachelor's degree from a regionally accredited U.S. institution or recognized institution from another country
Up-to-date résumé and curriculum vitae
Statement of Purpose
Three letters of recommendation from your professors or employers
For additional admission information, visit the link below.
Admission Requirements
Tuition Details
We are proud to offer competitive tuition and high-quality learning opportunities for our students. The online M.S. in Esports Business is $823 per credit hour and includes 33 credits. To find out more about tuition and fees, visit the link below.
Get Tuition Details
Learn From Industry Experts
This program is taught by dedicated faculty and leading practitioners who have relevant experience in the esports industry. They provide personal attention and share valuable field expertise to help you achieve your academic and professional goals.
Meet Our Faculty
The online degrees available from the University of New Haven are designed for working professionals and busy adults. As a student, you'll benefit from flexible program delivery and the same academic rigor as our on-campus programs.
Learn More
A graduate degree is an investment in your future. We want to make sure you have the information and resources you need to fund your studies. Explore transfer credit options, military benefits, federal aid, and more.
Tuition and Aid
Frequently Asked Questions
Get answers to commonly asked questions about online learning at the University of New Haven. If you need additional information that's not covered here, our admissions team can help. Contact us or call 855.474.8465.
There are currently no additional fees associated with the total tuition fee. Please note that program fees are subject to change each academic year.
The University of New Haven does not currently offer a virtual open house for this program.
This program consists of 33 credits. To view the course list and descriptions, visit the curriculum page.
There are 12 courses in this program. To view the course list and course descriptions, visit the curriculum page.
This program prepares you to enter the esports industry with relevant knowledge and skills you can apply in a wide range of roles. Possible careers include project manager, product manager, event manager, marketing manager, and more.
You can apply anytime. Our term start dates are in January and August.
Visit our FAQ page